CLARENCE CARTER
Patches Lyrics
I was born and raised down in Alabama
On a farm way back up in the woods
I was so ragged the folks used to call me Patches
Papa used to tease me about it 'Course deep down inside
He was hurt 'cause he'd done all he could
My papa was a great old man
I can see him with a shovel in his hand
See, education he never had
He did wonders when the times got bad
The little money from the crops he raised
Barely paid the bills we made
Oh life had kicked him down to the ground
When he tried to get up life would kick him back down
One day papa called me to his dyin' bed
Put his hands on my shoulders And in tears he said
He said "Patches, I'm depending on you son,
To pull the family through,
My son, it's all left up to you"
Two days later papa passed away
And I became a man that day
So I told mama I was gonna quit school
But she said that was daddy's strictest rule
So every morning 'fore I went to school
I fed the chickens and I chopped wood too
Sometimes I felt that I couldn't go on
I wanted to leave just run away from home
But I would remember what my daddy said
With tears in his eyes on his dyin' bed
[ From: http://www.elyrics.net ]
He said, "Patches, I'm depending on you son
I tried to do my best,
It's up to you to do the rest"
Then one day a strong rain came
And washed all the crops away
And at the age of thirteen I thought I was carrying
The weight of the whole world on my shoulders
And you know, mama knew what I was going through, 'cause
Everyday I had to work the fields
'Cause that's the only way we got our meals
See, I was the oldest of the family
And everybody else depended on me
Every night I heard my mama pray
"Lord, give him strength to make another day"
Though years have passed and all the kids are grown
The angels took mama to a brand new home
Lord knows people, I shed a tear
My daddy's voice helped me through the years
Sayin, "Patches, I'm depending on you son,
To pull the family through,
My son, it's all left up to you"
Oh, I could still hear papa's voice sayin'
"Patches, I'm depending on you son,
I tried to do my best,
It's up to you to do the rest".
I could still hear papa when he's sayin'
"Patches, I'm depending on you son,
To pull the family through,
My son, it's all left up to you"
Songwriter(s): General N. Johnson, Ronald Dunbar; Copyright: Gold Forever Music Inc.; [Lyrics from
eLyrics.net
]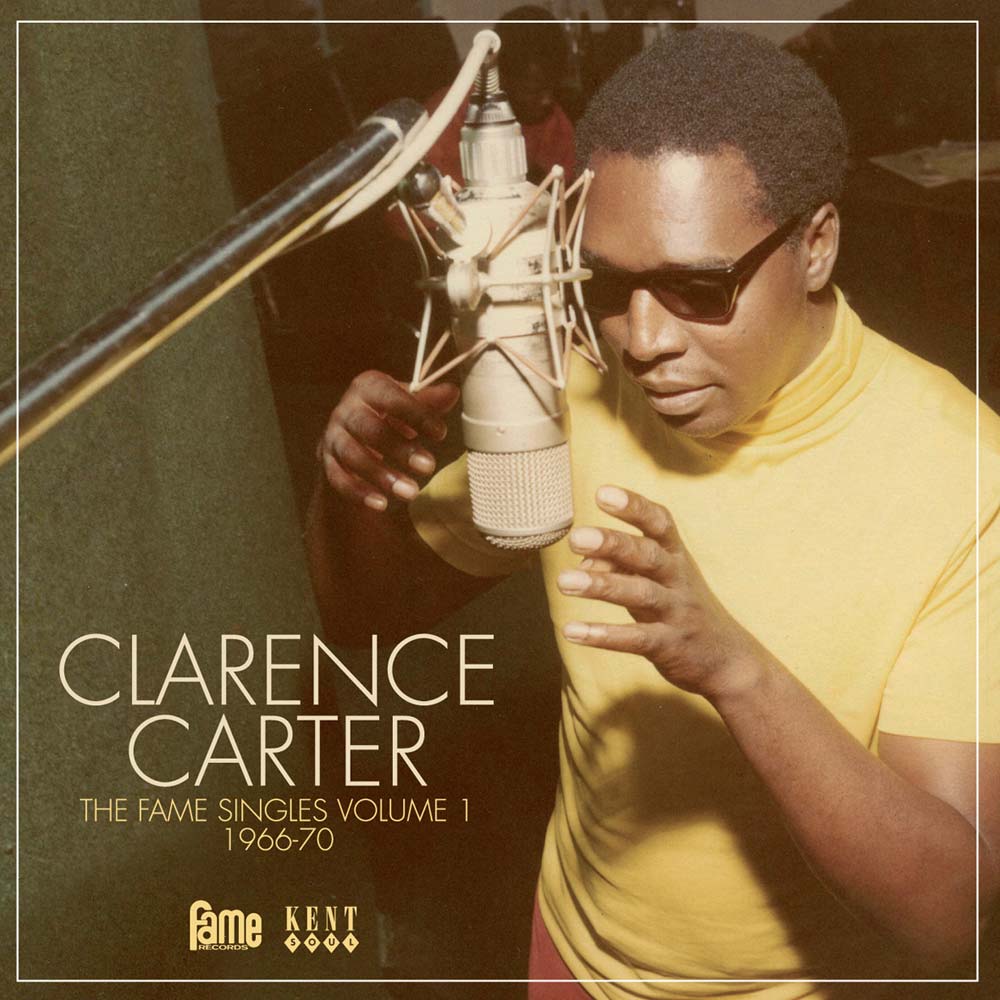 According to the website
Songfacts
-- "Patches" was Clarence Carter's most famous song, but it was originally recorded by the R&B group Chairmen Of The Board and released as the B-side to their 1970 single "Everything's Tuesday." Chairmen Of The Board lead singer General Johnson and his songwriting partner Ronald Dunbar wrote the song, which tells a heartwrenching story about a boy who grows up on a family farm in Alabama. Nicknamed "Patches" because his old clothes were patched together, his father asks him from his deathbed to take care of the family, which he does, working the fields while continuing his education.
Carter really was from Alabama, but he didn't grow up on a farm and never worked the fields. His delivery was so convincing that many listeners thought Carter was telling the story of his life, which was even more remarkable considering he was blind. Carter said that he sometimes felt like a fraud after receiving letters from fans praising his dedication to his family and citing him as an inspiration. Said Carter, "I heard it on the Chairmen of the Board LP and liked it, but I had my own ideas about how it should be sung. It was my idea to make the song sound real natural – I guess I tried a little too hard for some people!"
The song's co-writer General Johnson wanted the Chairmen Of The Board's version to be released as a single. Though his record company liked the song, they saw no potential for it as a single as it had no beat. The song is very unusual in that much of it is spoken. This turned out to be an advantage, and it punctuated the story and made the song stand out on the radio. The spoken interludes (or "preaching" as he called it) were a staple of Carter's music.
This won the 1970 Grammy Award for Best Rhythm & Blues Song for Ronald Dunbar and General Johnson.
Carter recorded this song at FAME Studios in Muscle Shoals, Alabama. The previous year, four of the FAME musicians who played on Carter's previous work left to form Muscle Shoals Sound Studios, so Carter did this song with their replacements, which included Junior Lowe on guitar, Jesse Boyce on bass, and Freeman Brown on drums. While many Soul classics by Carter, Wilson Pickett and Etta James came out of FAME around this time, their biggest hit of the era was "One Bad Apple" by The Osmonds.
Clarence Carter, known to his fans as Dr. CC, had a difficult childhood. He was blinded at a young age, and attended the Alabama School for the Blind at Talladega. He taught himself to play the guitar by listening to Lightnin' Hopkins records. Carter had three hits that went gold in the States: "Slip Away," "Too Weak To Fight" and "Patches."
While Carter didn't write this song, he claimed that he could certainly associate with it, since he came from a poor family and knew kids who had to support their families through farm work. Carter's grandfather died when his mother was still in high school, which also helped him relate to the song.
It was FAME Studios owner Rick Hall who asked Carter to record this song. Carter didn't want to do it, but Hall convinced him. According to Carter, when he recorded it, he didn't even know the lyrics, so some stood behind him and whispered them to him when he did his vocal. When the song became a hit, Carter was hoping he could record more Chairmen Of The Board material, but Rick Hall didn't like recording songs written outside of the FAME stable, as they were far less profitable. [source:
Songfacts
]