According to the
UK Guardian,
"Ireland apologises for 'slave labour' at Magdalene Laundries," by Henry McDonald in Dublin, on 19 February 2013 -- The Irish State has finally said sorry to 10,000 women and girls incarcerated in Catholic Church-run laundries where they were treated as virtual slaves.
Taoiseach Enda Kenny was forced into issuing a fulsome apology on Tuesday evening to those held in the Magdalene Laundries in Ireland.
The apology in the Dáil (Irish parliament) came about two weeks after a damning 1,000-plus page report was released detailing the way women and girls were maltreated inside the nun-controlled laundries.
Survivors groups were enfuriated when the Irish premier initially declined a fortnight ago to explicitly apologise for the state's role in sending women and girls into the Magdalene Laundries, sometimes simply for coming from broken homes or being unmarried mothers. (source:
UK Guardian)
As reported in the
Irish Examiner,
"Orders 'made lots of money' from laundries: Orders of nuns involved in the operation of the Magdalene Laundries have been urged by TDs to make a contribution to a survivors' compensation fund," by Mary Regan, Political Correspondent, on 27 February 2013 -- Labour TD, Eamonn Maloney, said he did not accept the finding in the report on the laundries by Martin McAleese that they did not make money from the free labour of women and girls who worked in them.
"They did make money, they made lots of money," he said during Dáil statements on the report, adding that most commercial laundries in the 1940s and 1950s closed because of competition from the Magdalenes.
"Not only has the church as yet to apologise for their role in operating these prisons, they do also have a role — because they made money — in compensating people," he said.
The Dublin South West TD added that politicians must not be afraid to "stand up and say this".
The Government has so far refused to say what contribution, if any, it will seek from the orders.
Four religious orders involved in the running of the laundries are due to meet with Justice Minister Alan Shatter and junior minister Kathleen Lynch.
Last Friday, Ms Lynch said the question of what would be considered a fair contribution was "debatable" and she did not want to go into it at this early stage.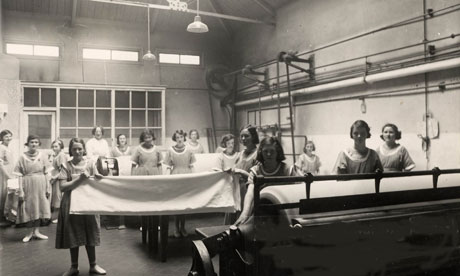 "The mistake that was made with the industrial schools was that the deal was done in advance of knowing what the final cost would be," she said.
"That was a major flaw in that process. And we don't intend to make those same mistakes again."
Fine Gael TD Joe O'Reilly there was "no avoiding the fact that the religious orders will have to make a contribution to the final fund".
During last night's Dáil statements, he said that in many cases, the orders involved have to pay for nursing home fees and the expensive care of their elderly demographic, and that should be taken into account.
"But where there are assets and where there is a capacity to pay, it would be cathartic and it would be part of a recovery process for the religious orders — and a very practical identification with the survivors if they made a financial contribution," said Mr O'Reilly.
The Cavan-Monaghan TD said it was "not sufficient that they make no input into it".
The four congregations which were referred to in the McAleese report on the laundries are the Sisters of Our Lady of Charity; the Sisters of Charity, which had assets of €33m in 2009; the Sisters of Mercy, which has a portfolio of assets of €1.8bn; and the Good Shepherd Sisters which, in 2009, had €16.8m worth of financial assets. (source:
Irish Examiner
)