From
M.I.T. Race Science In The Media
, "Reflections on El Negro's Return," by Miranda Pyne, on 26 February 2001 -- Last October saw the dignified end to the saga of El Negro. A mummified man, dead for almost two hundred years, was finally removed from the Francisco Darder Natural History museum in the city of Banyoles, near Barcelona, Spain, and flown to Gaborone, Botswana for an historic reburial.
Once upon a time, El Negro lived and died somewhere in Southern Africa. He is believed to have been a member of the Khoisan ethnic group. His corpse was exhumed by a notorious European grave digger; stolen and stuffed in France by the famous taxidermist, Eduard Verraux; exhibited in Europe during the 1830s; and in 1916 was purchased by Spanish naturalist and curator Francisco Darder. Over time the local residents gave him the nickname "El Negro" or "The Black Man." By virtue of that generic label — even though his display case included a few "authentic accoutrements" like a fishing harpoon — he gradually came to represent a timeless black oddity instead of a real man who had had a name and identity, a life.
Yet for years nobody seemed very bothered by a stuffed man with a crudely retouched black-painted face and crumbling stretched skin. Not until Alphonse Arcelin, a Spanish doctor of Haitian background, began to complain that the display of El Negro was an "affront to humanity" and to "black people" in general. The fight to get El Negro removed and then buried in Africa began in earnest in 1992, but not without resistance. El Negro was a beloved local fixture in Banyoles.
When Arcelin led a campaign for El Negro's return, threatening to ask all African athletes to boycott the upcoming Barcelona Olympics, local Banyoles residents wore T-shirts with slogans such as "Keep El Negro" and "Banyoles loves you, El Negro." At Easter children were treated to miniature chocolate reproductions of him. Some attempted to explain the exhibition of a stuffed human being by invoking the tradition of "relics" (the display of bodies or body parts) of saints, a Catholic tradition that is especially strong in Southern Europe. But El Negro was never considered a saint. He had just always been around. He had been used as part of the local school curriculum for years, Carlos Abella, councilor and curator of the Darder museum, explained in press reports at the time.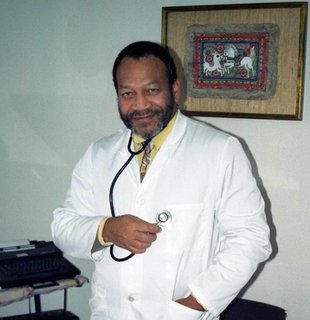 Mayor Juan Solana supported him. "We have mummies and skulls and even human skins in the museum," said Solana. "What is the difference between those things and a stuffed African?"
Abella agreed: "El Negro is our property. It's our business and nobody else's. Human rights only apply to living people, not to the dead. This is a museum that shows different races and cultures with adequate respect. It is a racial exhibit, and racism or morbidity may be a personal attitude from visitors which the museum does not foment.... [So] the talk of racism is absurd."
It took seven years to arrange his return but El Negro did finally come home. He arrived in a coffin adorned by Botswana's national blue and white flag in a chartered plane, in a gesture of reconciliation by Spain that was supported by the OAU, most western European countries and ordinary folk on the ground.
"It was incredible that at the end of the 20th century, someone still dared to show a stuffed human being in a show case, as if it were an exotic animal," Alphonse Arcelin said.
Kitso Lemo, a junior at Harvard University and president of the Harvard African Students Association, is from Botswana ; he wasn't there when El Negro was returned, but he followed the story avidly. "It was interesting to see the whole fight to get an African back to his place of origin, it brought back echoes of the barbarism of European imperialism, this attitude of 'we've caught this beast from Africa,'" said Lemo. "When the body got back to Botswana, they didn't take it to the local museum, they didn't say, 'This is our property, let's display it.' In Africa, you could do that for animals and pieces of art, not for people. We wouldn't allow one of our people to be displayed. We probably wouldn't allow any person to be displayed. It's a different take on the sanctity of a human being and death."
El Negro isn't the only one to get caught between different takes on the uses of human bodies. The dissected genitals of Saartje Baartman (better known as the Hottentot Venus) still float in a jar in the bowels of the Museum of Man in Paris, France — remnants of an age when she was taken from Southern Africa and paraded naked, as a sexual curiosity, in Europe. Ota Benga, a central African, was displayed as an oddity at the St. Louis World's Fair in 1904 and afterward, for a time, at the Bronx Zoo. History is haunted with "Aboriginal" samples: people and artifacts taken from Africa, Asia and the Americas to be shown for aesthetic contemplation, scientific analysis and sheer entertainment throughout Europe and North America.
In the seven years it took to manage the logistics of El Negro's return, the world has had its consciousness raised regarding reparations and cultural restitution. It's a far cry from the days when English parliamentarians could blithely ignore claims from emperors and kings regarding stolen loot taken from their distant kingdoms, when the world shook its head and laughed when Anwar Sadat suggested an accounting for all the stolen Egyptian mummies lying elsewhere in the world, or when Nigeria asked that Britain return a stolen ivory mask for the 1977 World African Arts Festival — and saw its request denied.
In Britain, the African Reparations Movement (UK ARM) has teamed with the Nigerian government and the Obas (traditional leaders) of Benin to argue for the return to Benin from Scotland of the Benin Bronzes . Looted in February 1897, after the British deposed the Benin King, these artifacts were not all decorative; some played crucial parts in state rituals and coronations. ARM has also collaborated with UNESCO to raise awareness of heritage sites in Africa and stolen artifacts at large, some of them plundered not by conquering imperialists but by nationals looking for a fast buck on an illegal international art market.
The return of cultural heritage items isn't limited to Africa and Europe. Only recently England returned Scotland's Stone of Destiny, which had been used during the coronation of Scottish kings for centuries — until it spent an unplanned 800 years in England. Controversy simmers today about the elegant Elgin Marbles, removed from the Acropolis in Athens to London in 1817 by the English Lord Elgin. He took them under a permit granted by the Ottoman government, but Greece has always seen it as a case of stolen property. Countries as far flung as Greece, Iraq, Tibet, Guatemala, Scotland and China have all made claims for the return of stolen loot. The successful work of Native American nations and European Jewish groups have been crucial in this regard, setting serious precedent for the return of stolen treasures, artifacts and sacred objects elsewhere. Of course, perhaps the most sacred object of all is that which once housed a human soul.
Cultural restitution, in its various claims for cash, apologies or symbolic gestures, might yet be working. A hopeful sign was last year's first summit between Africa and the European Union in Cairo, Egypt, when African leaders insisted on the return of cultural possessions taken from their places of origin including the Sphinx's beard, the Rosetta Stone, various mummies to Egypt and a golden throne to Ghana.
El Negro's symbolic repatriation and burial in Botswana carried symbolic importance far beyond the continent. As OAU representative Daniel Antonio said at the airport, "I believe at this moment what is important is to give our African friend a decent and dignified burial." After Botswana foreign affairs minister Lt. Gen. Mompati Merafhe and other government officials received El Negro's remains at the Sir Seretse Khama International Airport, the body was taken to Gaborone's Civic Centre to lie in state as thousands of local people walked past the coffin, paying their respects to their long-disrespected countryman.