As Reported in the
LA Times
, "100 DAYS TO THE OLYMPICS : El Negro Becomes Nightmare to Barcelona Games : Olympics: City of Banyoles won't put away display of stuffed bushman that many consider offensive," by Doug Cress, on 16 April 1992 -- The exhibits in the tiny Darder Natural History Museum here run from the grotesque to the bizarre. There is a stuffed calf with two heads, a baby pig with two mouths, an entire family of lions and a Great Dane that once belonged to the founder.
Another room holds two tanned human skins--male and female--several shop-worn mummies and a row of glass jars containing human fetuses from one month to nine months old.
And then there is El Negro.
Stolen from a freshly dug grave in southern Africa by a Spanish scientist more than a century ago, El Negro is the nickname given to the Kalahari bushman who was stuffed, mounted and placed on display in 1888. He has stood in a glass booth as part of the permanent Darder collection since 1916, another curio in this little shop of horrors.
But with the Summer Olympics less than four months away--and the town of Banyoles scheduled to play host to the rowing competition--El Negro's existence has touched off a firestorm of controversy that has prompted talk of an African Olympic boycott and already has involved local politicians, foreign governments and the International Olympic Committee.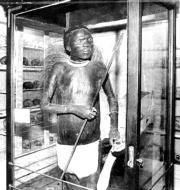 The IOC recently requested that the museum remove El Negro from view during the Games, which will begin July 25 and end Aug. 9 [1992].
"The IOC has asked authorities in Banyoles to take this man away during the Olympic Games in order to avoid hurting people's feelings," said Keba M'Baye, an IOC vice president from Senegal. "It is clear he cannot stay. We feel this is the only way to resolve the situation, and we are confident it will be done."
Just one problem: Banyoles doesn't want to give El Negro up. Determined to resist what they consider bullying tactics and meddling by outsiders, city officials have steadfastly resisted all attempts to remove El Negro and say they are not inclined to honor the IOC's request.
"We would need time to study a proposal like this," said Carles Abella, a member of the Banyoles city council. "It could take weeks and weeks. It's a very complicated process, because the museum belongs to the city of Banyoles. It could even go to our general assembly, and that would take longer.
"But who's to say we would be inclined to say 'yes' to the proposal from the IOC? If not, it could be in our best interests to prolong this affair."
Such talk infuriates Alfonso Arcelin, the Haitian-born physician who last May began the fight to have El Negro taken down. Arcelin, who has lived in Spain since 1979, first made a private request to the museum after coming across a photo of El Negro in a tourist brochure.
But when the museum refused, Arcelin went public.
"For black people, it's humiliating," Arcelin said. "It's not just because he's a black man, either. If it were a yellow man or a white man or a red man, my sentiments would be the same. But myself being a black man, it's worse. This is a human being; he should be at rest."
At the heart of the El Negro affair is Spain itself, a nation that essentially spent the last 500 years in isolation and is only now coming to grips with the modern world. That a stuffed man--any man, but especially an African--might be considered offensive to others is a difficult concept for many to grasp, and most simply laugh at the controversy. During the recent Carnival celebrations, dozens of revelers painted their faces black, wore grass skirts and weaved giant bones into their hair.
In fact, a recent radio poll in Banyoles found that 87.2% of those surveyed support keeping El Negro where he is, and a leading home design company has worked a silhouette of El Negro into its logo. In Barcelona, a top candy-maker is using a giant chocolate El Negro as the centerpiece of its Easter window display.
"He is part of international folklore," Abella said proudly.
The fierce regional independence so prevalent here in Catalonia, the northeastern corner of the country, also has exacerbated the problem. Although Banyoles is only 70 miles northwest of Barcelona, its civic leaders have no desire to kowtow to others, even if Banyoles contains one of the largest per-capita ratios of blacks to whites in Spain.
Olympic organizers acknowledge they are stymied by the situation.
"It's out of our jurisdiction," said Caradad Reixach, a spokeswoman for the Barcelona Olympic Organizing Committee (COOB). "The problem is not our problem. The museum does not belong to COOB."
That is why Arcelin has written dozens of letters asking for help, ranging from prominent black Americans such as Los Angeles Mayor Tom Bradley, hurdler Edwin Moses and basketball star Magic Johnson to world leaders such as Canadian Prime Minister Brian Mulrooney, former U.S. President Jimmy Carter and Pope John Paul II. Only a few have replied.
"I tell you, I don't know what more I can do," Arcelin said. "Now, I do not expect an answer from the Pope, but I would like to know that these people care. Have they heard? Have they forgotten?"
Arcelin is not entirely without support, however. The Roman Catholic Church of Catalonia has condemned El Negro's presence, as has a chapter of the ruling Catalan Socialist Party. In addition, representatives of the African embassies in Spain recently held a meeting in Madrid to discuss their options, including for the first African boycott of the Olympic Games since 1976.
The Center for Inter-African Cultural Initiatives recently announced its intention to take as many black Olympians as possible up to Banyoles to see El Negro for themselves before the Games, hoping that sheer numbers somehow force a resolution. And media coverage--from Japanese television to British radio, to German, French and Brazilian magazines--has been heavy.
Finally, the government of Botswana, said to be the actual homeland of El Negro, is studying a report on the situation and may issue a formal request for the return of the body.
"The only problem is whether we can be legally sure he is ours," said Mustaq Moorad, charge d'affaires of Botswana's High Commission to the European Community in Brussels. "The Kalahari region is quite large, and there is a possibility he could be Namibian or Angolan or from somewhere else. But from a humanitarian standpoint, why would anybody want to look at a body that has been dug up from a grave?" (source:
http://articles.latimes.com/1992-04-16/sports/sp-1083_1_ioc
)