From the
New York Time
s on July 25, 2004, "'Rising From the Rails': Up From the Sleeper Car," by A'Lelia Bundles -- FOR just over a century, until 1969, Pullman porters were as much a part of luxury American train travel as grand marble-columned terminals. More than just the amiable public face of the Pullman Company, the porters -- recently freed slaves -- were crucial to its early success in the decade immediately after the Civil War. As the company's founder, George Pullman, quickly realized, a post-midnight hot toddy and a freshly whisked topcoat were more essential to customer satisfaction (and long-term profits) than the damask curtains and wood-paneled chambers of his ''hotel on wheels.'' And who better to help him maintain his near monopoly of the lucrative sleeping-car industry than the carefully screened black servants whose gentlemanly, nonthreatening demeanor aimed to reassure the wealthy white travelers of the late 19th century? ''The old Southern colored man makes the best porter,'' a Pullman general manager said nostalgically in 1915, as the first generation of porters (and the last generation of former slaves) was beginning to die.
By its very nature, the work of a Pullman porter could be demeaning, infused as it was with the plantation mentality that lingered in America well into the 20th century. But at a time when even college-educated black men might wind up doing menial labor, the porter's job provided the kind of vicarious exposure and connection to powerful people that Larry Tye contends ''helped shape today's black middle class and intelligentsia.'' In ''Rising From the Rails,'' Tye makes the even bolder claim that ''behind almost every successful African-American, there is a Pullman porter.'' It is a provocative assertion, one that Tye earnestly sets about to prove.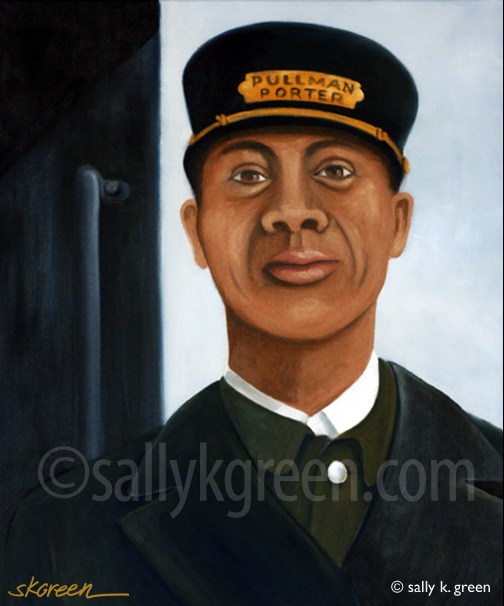 By the 1900's, when 100,000 passengers a night lay tucked into its sleeping berths, the Pullman Company was the largest single employer of black men in the United States. The same men who were portrayed as grinning, bowing valets in film and fiction were revered at home as dignified, well-traveled sophisticates. ''His was the best job in his community and the worst on the train,'' Tye observes. Tailored jackets and spit-shined shoes guaranteed status in segregated neighborhoods where dusty overalls and mud-crusted brogans were the more frequent attire for workingmen. That more than a third of Pullman porters owned their own homes in 1926 only boosted their reputations as community leaders whose middle-class aspirations trumped their blue-collar realities. It is no surprise that they ''were thought to be catches as husbands,'' as Tye writes.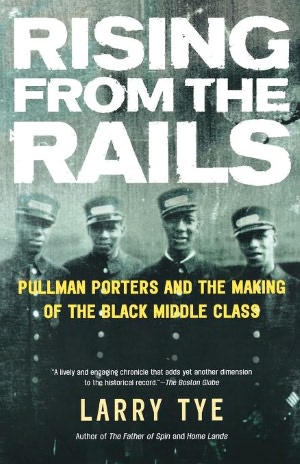 Their self-education -- and, subsequently, that of their children -- is said to have begun when they read their passengers' discarded newspapers and magazines. But many porters were college graduates, and more than a few black trainmen were law school and medical school students who earned tuition working summers as dining car waiters. (My maternal grandfather, a 1924 graduate of the University of Pittsburgh Law School, was among them.)
Scores of former Pullman porters and dining car waiters excelled: Benjamin Mays, a Phi Beta Kappa graduate of Bates College, who became president of Morehouse College; the explorer Matthew Henson, who helped discover the North Pole; and J. A. Rogers, whose 1917 novel, ''From 'Superman' to Man,'' remains one of the most authentic accounts of a Pullman porter's experiences. But the porter's ''most lasting legacy was his children and grandchildren, and all that they accomplished educationally and economically, socially and politically,'' Tye contends. Clearly that is true of William Kennard, a former chairman of the Federal Communications Commission and now a managing director of the globally powerful Carlyle Group, who inherited his confident manner from his Pullman porter grandfather. It is equally true of the Supreme Court justice Thurgood Marshall, the former San Francisco mayor Willie Brown and the Olympian Wilma Rudolph, who all benefited from the lessons of Pullman porter fathers.
Unfortunately Tye, the author of ''The Father of Spin,'' devotes considerable ink to biographical and historical material already well covered by other writers. Certainly there is no downside to revisiting the story of E. D. Nixon, the Pullman porter and president of the Montgomery, Ala., chapter of the N.A.A.C.P., who played a key role in that city's 1955 bus boycott. The dramatic story of how A. Philip Randolph led the porters in their nasty 12-year battle against the Pullman Company to create the Brotherhood of Sleeping Car Porters, the first all-black union chartered by the American Federation of Labor, deserves to be told and retold. But Tye easily could have abbreviated his version of the porters' labor struggles because definitive accounts have appeared in other books, like Jervis Anderson's ''A. Philip Randolph: A Biographical Portrait,'' Paula F. Pfeffer's ''A. Philip Randolph, Pioneer of the Civil Rights Movement'' and Beth Tompkins Bates's ''Pullman Porters and the Rise of Protest Politics in Black America, 1925-1945.''
At his best, Tye celebrates the accomplishments of now prominent descendants of Pullman porters. Had he explained exactly how the porters prepared their offspring to succeed -- and provided more tangible data and documentation -- his claim that Pullman porters begat a disproportionate number of well-educated, professional black Americans would have been stronger. He acknowledges that ''there were no studies comparing porters to other occupational groups'' yet asks us to believe the ''accepted wisdom that they turned out more college graduates than anyone else.'' Without a comparison of the contributions to the creation of the black middle class by, among others, teachers, ministers, beauticians, caterers, country club headwaiters and, truth be told, the occasional numbers banker, Tye's premise that Pullman porters, more than any other group, ''helped give birth to the African-American professional classes'' seems overstated. The porters' transformation from shuffling factotums to militant labor movement heroes is so compelling that one wants to applaud them in every way possible, but the numbers just do not add up, especially when one knows that the 12,000 porters of the 1920's constituted just a whisper more than one-tenth of 1 percent of the total black population of 10 million. In the end, Tye's anecdotal evidence, captivating as it may be, is less than sufficient to deliver fully on his subtitle's promise. [source:
New York Time
s ; A'Lelia Bundles is the author of ''On Her Own Ground: The Life and Times of Madam C. J. Walker.'']

Terry Gross interviews Journalist Larry Tye, they examine the social history of the porter in Rising from the Rails: Pullman Porters and the Making of the Black Middle Class. Tye says that the job was one of the best for African Americans at the time, and that it was a foothold in the American workplace. Tye reports for The Boston Globe.