From
Appalachia History
, "Gandy Dancers" by Dave Tabler (7 January 2008) -- Before railroad work was completely mechanized in the 1950s, railroad calls were an everyday part of the track worker's ritual. Most of these gandy dancers—the label applied to railway line workers who maintained railroad tracks and kept the rails straight—were African Americans who adapted the work call to railroad work. The term is said to be from the dance-like movements of the spikedriver, plus the name of Chicago-based Gandy Manufacturing Company, who supplied tracklining tools.
The physical movements of these railroad crew members were synchronized by a caller who sang the chants, ensuring safety and pacing while spiritually uplifting the men at their toil. Teams of eight to 14 men worked together to lay or care for the tracks. They had a rich repertoire of songs used for the many tasks required of them. Called lining track songs, these hollers are closely related to shanties. In the poetic words of folklorist Alan Lomax, the songs "sounded so wild and sweet that the mockingbirds in the nearby bushes stopped to listen, [as the] railroad moved into the Southern wilderness."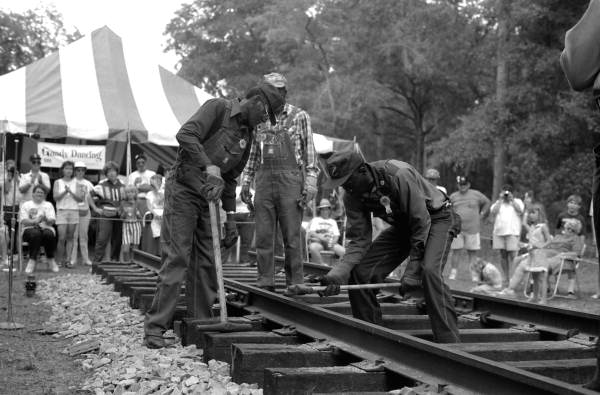 Apparently women worked at track lining as well as men. There is a verse in one of the lining track songs that goes "Y'oughta been on the Brazos, 19-and-10, Buddy Russell drove the women like he drove the men."
Gandy Dancers (railroad workers). Warren County, MS, August 1976.
Since the caller was never sure when the call had to stop, there was generally no narrative logic to the sequence of his calls. This transcribed lining track song verse, for example, recalls a biblical figure and is followed by several about present day women:
If I could I surely would,
Stand on the rock where Moses stood.
If I could (rap it, rap it!)
I surely would, Stand on the rock,
Where Moses stood.
I don't know but I've been told,
Susie had a jelly roll.
I don't know
But I've been told,
That Susie had,
A jelly roll.
Ida Red and Ida Blue,
got a gal named Ida too.
Oh boys over yonder (6 x)
Bluegrass legend Jimmie Rodgers picked up guitar, yodeling and much of the Negro country blues style from gandy dancers.
Sometimes Aaron Rodgers took his son with him out to the tracks and put him to work bringing water to the black work crews who repaired worn ties and damaged rails, cleared brush, and shoveled gravel ballast.
Jimmie Rodgers, the father of country music
The foreman sent along a command to a "caller," who configured this order into cadences similar to what you might hear from a drillmaster. "If you really wanted to move that track, you made a sexy call," a former gandy dancer named Cornelius Wright told the cultural researcher Maggie Holtzberg-Call. "And they had the language for it. Some callers would talk about the lingerie that a woman wore. Now that caused the crew to really shift that track." —"In the Country of Country:People and Places in American Music" (source:
http://www.appalachianhistory.net/2008/01/gandy-dancers.html
)