Sculptor Richard Blake
Richard Blake's education in art started when he was nine years old. He enrolled at the Samuel Fleisher Art Memorial, Philadelphia, Pennsylvania where he studied drawing and painting. At the age of fifteen Blake changed from painting to sculpture and quickly became totally immersed in all facets of sculptural expression. Later he competed and won a full scholarship to the Tyler School of Fine Arts. While a student at Tyler, Blake was awarded the Stewardson Prize by the Pennsylvania Academy of Fine Arts for his competence in figure modeling. After graduation he continued his studies independently in Europe and Central America.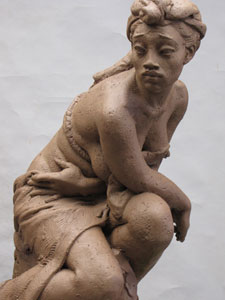 "Luna" by Richard Blake, Clay for Bronze. Sculpture Awards Exhibition at Brookgreen Gardens
Currently Blake resides and works in the scenic Amish countryside of Lancaster, Pennsylvania. A professor at West Chester University where he teaches sculpture and life drawing.
Blake's sculptures have been included in over 40 International and National exhibitions and is represented in many private collections and public outdoor commissions. His work has received numerous honors and awards from the nation's oldest and most venerated art institutions including the National Sculpture Society and the National Academy of Design, both are located in Manhattan, New York. He has also served as the President of the National Sculpture Society (NSS) from 2007 thru 2010 and is a fellow of NSS.
"Rosa Parks"
"My primary focus is the human figure. I strive to combine the abstraction of the 20th Century with an organic lyrical rhythm inherent in the human form. These sculptures are sensual, bound to the human condition and yet monumental…
a concept without regard to size."
Frederick Douglass Monument
Frederick Douglass monument, constructed of Bronze and Stone, 7.5 feet not including stone base, located on the campus of West Chester University of Pennsylvania, Where Douglass delivered several of his historic abolitionist & suffragist speeches. (source:
http://www.richardblakesculptor.com/
)