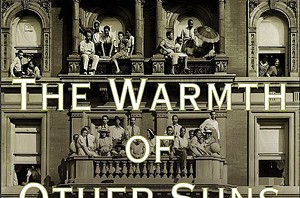 The New Yorker Magazine
, In May of 1939, Ralph Ellison, who was twenty-six at the time, asked an old man hanging out in Eddie's Bar, on St. Nicholas Avenue near 147th Street, "Do you like living in New York City?" The man said:
Ahm in New York, but New York ain't in me. You understand? Ahm in New York, but New York ain't in me. What do I mean? Listen. I'm from Jacksonville, Florida. Been in New York twenty-five years. I'm a New Yorker! Yuh understand? Naw, naw, yuh don't get me. What do they do; take Lenox Avenue. Take Seventh Avenue; take Sugar Hill! Pimps. Numbers. Cheating those poor people out a whut they got. Shooting, cutting, backbiting, all them things. Yuh see? Yuh see what Ah mean? I'm in New York, but New York ain't in me!
Ellison took all that down, on a nice neat form. He was asking because it was his job to ask: he was muddling through the Depression on a paycheck from the Works Progress Administration, which people liked to call the Whistle, Piss, and Argue department but which was something to do, anyway, and better than the dole. At its peak, the W.P.A.'s Federal Writers' Project employed more than six thousand writers—from newspaper reporters to playwrights, anybody who used to make some kind of living by writing and couldn't anymore—including Saul Bellow, Zora Neale Hurston, John Cheever, and Richard Wright. (At the time, one in four people in publishing was out of work.) It was mired in bureaucracy and inefficiency, you had to take a pauper's oath to get hired, and the whole thing was axed, four years after it got started, by people in Congress who were convinced it was a Communist front. But, before that, Ellison and all those thousands of other writers chronicled American life by interviewing ordinary people.
They also reinvented the interview and changed American journalism forever. The project's folklore editor, Benjamin Botkin, had a mad, beautiful vision. He wanted to turn "the streets, the stockyards, and the hiring halls into literature." From more than ten thousand interviews, the Writers' Project produced some eight hundred books, including "A Treasury of American Folklore" and, in 1939, a volume called "These Are Our Lives." That's not counting the novels, though, which is where a lot of those interviews wound up. In "Invisible Man," which won the National Book Award when it was published, in 1952, an old woman, up from the South, saves Ellison's narrator, a newer arrival, after he collapses on Lenox Avenue, telling him, "You have to take care of yourself, son. Don't let this Harlem git you. I'm in New York, but New York ain't in me, understand what I mean?"
That man in Eddie's Bar, who left Jacksonville, Florida, at the beginning of the First World War, was part of what historians call the Great Migration, which can be confusing, because historians also talk about the Great Migration of Puritans who left England between 1630 and 1641. There's great, and then there's great. The seventeenth-century migration to New England—twenty thousand people—was great because the Puritans thought it was great, and said so every time they got within ten paces of a pulpit: I am founding a city on a hill, a beacon unto the world! I am leading an errand into the wilderness! The twentieth-century migration from the Cotton Belt was great in numbers, but whether it was great for the people who made it was something to wonder about. Was this really the promised land? Was this, Seventh Avenue, home? "Should I have come here?" Richard Wright, who was born in Mississippi and moved to Chicago in 1927, asked, in "Black Boy." Between 1915 and 1918, five hundred thousand blacks left the South; 1.3 million between 1920 and 1930. They drove; they hitched rides; they saved till they could buy a train ticket. They went to cities, especially Chicago, Detroit, New York, Philadelphia, and Los Angeles. They fled Jim Crow, laws put on the books after Reconstruction. Georgia was the first state to demand separate seating for whites and blacks in streetcars, in 1891; five years later came Plessy v. Ferguson. By 1905, every Southern state had a streetcar law, and more: in courthouses, separate Bibles; in bars, separate sections; in post offices, separate windows; in libraries, separate branches. In Birmingham, it was a crime for blacks and whites to play checkers together in a public park. By the nineteen-seventies, after civil rights put an end to Jim Crow and the Great Migration stopped, six million people had left their homes. It was bigger than the Gold Rush. It was bigger than the Dust Bowl Okies. Before the Great Migration, ninety per cent of all blacks in the United States lived in the South; after it, forty-seven per cent lived someplace else. Today, more African-Americans live in the city of Chicago than in the state of Mississippi. In "The Warmth of Other Suns: The Epic Story of America's Great Migration" (Random House; $30), Isabel Wilkerson, who earned a Pulitzer while working as the Times' Chicago bureau chief, and now directs the narrative-nonfiction program at Boston University, calls the exodus "the biggest underreported story of the twentieth century."
To report that story, Wilkerson became something of a one-woman W.P.A. project. Her research took more than ten years, and is not unlike another chunk of work done by the Federal Writers' Project: documenting the history of slavery, before its memory faded altogether. In the nineteen-thirties, about a hundred thousand people who had once been owned by other people were still alive. Writers' Project writers fanned out to find them, and collected two thousand life stories. Before this, all that historians writing about slavery had was a handful of slave narratives by people who had escaped; accounts written, here and there, by travellers to the South; and tottering piles of letters and diaries left by slave-owners. Oral histories are, as evidence, not without problems. Much depends upon the sensitivity, acuity, and fidelity of the interviewer. But without those W.P.A. interviews—firsthand accounts by people who lived, for part of their lives, as slaves—much of the history of slavery would be unrecoverable.
Author Richard Wright
Wilkerson, realizing that the generation of Americans who lived under Jim Crow won't be around much longer, set out to talk to them. Her own parents left the South: her mother migrated from Georgia, her father from Virginia. She'd heard their stories from childhood. She wanted to hear more. She interviewed more than twelve hundred people, from all over the country. She found them at pensioners' clubs, senior centers, and funerals, walking with walkers, hair grizzled. ("I hung around playgrounds; I hung around the street, the bars," Ellison said of his W.P.A. interviews. "I went into hundreds of apartment buildings and just knocked on doors. I would tell some stories to get people going and then I'd sit back and try to get it down as accurately as I could. Sometimes you would find people sitting around on Eighth Avenue just dying to talk.") Wilkerson spoke at length with three dozen people and then chose three, whom she interviewed for hundreds of hours. Her book is the story of those three lives, told, really, as an act of love. She takes her title from a passage in Wright's "Black Boy: A Record of Childhood and Youth":
I was taking a part of the South to transplant in alien soil, to see if it could grow differently, if it could drink of new and cool rains, bend in strange winds, respond to the warmth of other suns, and, perhaps, to bloom.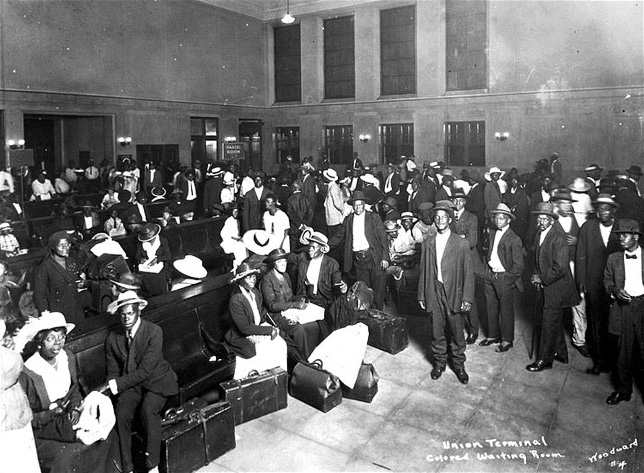 And her deeply affecting, finely crafted and heroic book can be read as an elegant homage to Wright's "12 Million Black Voices: A Folk History of the Negro in the United States." (Wright's text accompanied photographs taken by the Farm Security Administration.) Wright expressed, in vernacular, an argument of the Chicago School of sociologists, who, beginning in the nineteen-twenties, had been studying the Great Migration, crunching the numbers, calculating averages, compiling reports (presaging Moynihan's), about black life in the urban North. "Perhaps never in history has a more utterly unprepared folk wanted to go to the city," Wright wrote. In the Chicago School argument, the folk, in the city, crash into modernity; uprooting means loss, especially loss of community, an argument that has long been debated, and that Wilkerson doesn't so much take on as steer clear of. Her folk don't crash; they struggle, they study, they strive and even thrive. More to the point, she doesn't call them folk, and, for all that her work shares with Wright's, her project has less in common with the documentary populism of the nineteen-thirties, which, like Chicago School sociology, was always about the collective (if you could just talk to enough people, take enough photographs, conduct enough surveys, you could, finally, record what it meant to be human), than with the new narrative journalism of the nineteen-sixties, which was always about the individual (if you could just find the right person to talk to, and it had to be an ordinary person, you could write the story of everyone). Wilkerson's work, in other words, is more novelistic than documentary, more "Invisible Man" than "12 Million Black Voices," and less Studs Terkel (another Writers' Project writer) than J. Anthony Lukas (who, like Wilkerson, spent much of his career at the Times).
Wilkerson has taken on one of the most important demographic upheavals of the past century—a phenomenon whose dimensions and significance have eluded many a scholar—and told it through the lives of three people no one has ever heard of. Narrative nonfiction is risky; it has to be grabby, telling, and true. To bear analytical weight, it has to be almost frighteningly shrewd. In "The Warmth of Other Suns," three lives, three people, three stories, are asked to stand in for six million. Can three people explain six million? Do they have to? Your answers probably depend, mostly, on your intellectual proclivities. You're reading this magazine; chances are you lean toward thinking that stories, good stories, explain. But if you're an empiricist the only real way to decide is to see it tried. And so, of six million lives, of three stories, here's one. (
click here
to continue reading this article from the
New Yorker
)