1855--Brick Baptist Church, the first church on St. Helena Island, was built by slaves for white plantation owners.
A Historic Landmark--Brick Baptist Church's heritage is woven into the rich tapestry of African American culture and history of the South Carolina Sea Islands. Built by slaves in 1855, Brick Baptist Church is the oldest church on St. Helena Island. The two-story building is constructed of mortar and bricks built around a spacious sanctuary. An open balcony was used for the slaves who stood during the services, always out of view of the white plantation owners who sat on the lower level.
In 1861, after the day of "big gun shoot", the fall of Port Royal and the insurgence of the Yankees signaled the end of a brutal era in American history—the end of the Civil War and slavery. Later when the government sold abandoned plantations and land holdings to freed slaves, Brick Baptist Church was turned over to 8000 former slaves as their place of worship. There were more than 1000 members, with more being converted and baptized every three months.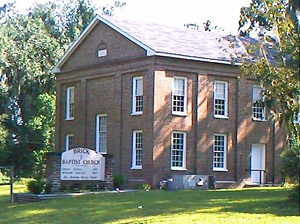 The legacy of Brick Baptist Church is closely connected to historical Penn School, established as one of the first schools for freed slaves. In October 1862, Laura M. Towne and Ellen Murray, Penn School co-founders, opened their school at The Oaks Plantation with nine students, and later moved to Brick Baptist Church when enrollment increased to 132 students. Charlotte Forten, the first African-American teacher, taught at Penn School until 1864.
For more than a century and a half, Brick Baptist Church has endured and prospered through the word of God. The church has also served as a catalyst for change and a cornerstone of religious and family values. Brick Baptist Church is focused on becoming a teaching church, offering religious instruction for youth, establishing foreign missions, building community outreach, increasing membership, designing a scripturally-based vision, and endeavoring to spread the gospel throughout the world. [http://www.brickbaptist.com/history.html]