From the
Wall Street Journal
, on 17 March 2011, "On the Rise of Debtor's Prison: 'The Scariest Thing That Ever Happened to Me,'" by Ashby Jones: Thought debtors' prisons were a thing of the past? A contrivance used to punish the penniless in the age of Dickens?
Think again.
The Wall Street Journal's Jessica Silver-Greenberg has a story Thursday on the return of the debtor's prison — in 21st Century America.
According to the story, more than a third of all U.S. states allow borrowers who can't or won't pay to be jailed. Judges have signed off on more than 5,000 such warrants since the start of 2010 in nine counties.
But now a backlash is building against use of the debtor's prison. It's a reaction to sloppy, incomplete or even false documentation that can result in borrowers having no idea before being locked up that they were sued to collect an outstanding debt. (On the other hand, the debt-collection industry says such errors are extremely rare, adding that warrants usually are sought only after all other efforts to persuade borrowers to pay have failed.)
For instance, Illinois regulators are investigating the use of warrants by debt collectors and other financial firms doing business in that state.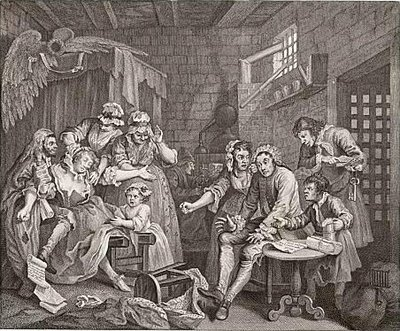 In September, the Illinois Department of Financial and Professional Regulation issued an order seeking to revoke the license of Easy Money Express Inc. The Paducah, Ky., payday lender won arrest warrants against at least four customers. One spent five days in a Carbondale, Ill., jail last March after failing to pay a $275 debt, court filings show.
In September 2009, Jeffrey Stearns, a concrete-company owner, answered a knock at the door from a Hancock County, Ind., deputy sheriff. The deputy was holding a warrant to arrest Stearns for not paying $4,024.88 owed to a unit of American International Group Inc. on a loan for his pickup truck.
After being handcuffed in front of his four children, Stearns, 29 years old, spent two nights in jail, where he said he was strip-searched and sprayed for lice. Court records show he was released after agreeing to pay $1,500 to the loan company. "I didn't even know I was being sued," he said, though he doesn't dispute owing the money. "It's the scariest thing that ever happened to me." (source:
Wall Street Journal, 17 March 2011
)