Brown University's Slavery Memorial, a work by Martin Puryear. Photo: Providence Journal by Bob Thayer
From
The Providence Journal
,"In iron and stone, Brown University acknowledges slave ties," by Bill Van Siclen, on 20 September 2014 -- PROVIDENCE — For nearly a year, Brown University has been celebrating its 250th anniversary with everything from concerts and art exhibits to a 600-pound birthday cake.
But some events connected to the anniversary are more solemn than celebratory. On Saturday, for example, the university will dedicate a new stone-and-iron memorial designed to highlight its past ties to the transatlantic slave trade.
Created by noted African-American sculptor Martin Puryear, the so-called Slavery Memorial has two parts.
The largest and more visible is a 4.5-ton cast-iron sculpture that suggests a giant, half-submerged ball and chain. In a symbolically charged detail, the last of the chain's three massive links is broken in half, as if forcibly torn apart.
A second element — a cylindrical granite plaque — sits nearby, inscribed with information about the slave trade and the role the university and its namesake family, the Browns, played in it. In part, the inscription reads:
"This memorial recognizes Brown University's connection to the trans-Atlantic slave trade …. In the eighteenth century slavery permeated every aspect of social and economic life in Rhode Island. Rhode Islanders dominated the North American share of the African slave trade, launching over a thousand slaving voyages in the century before the abolition of the trade in 1808, and scores of illegal voyages thereafter. Brown University was a beneficiary of this trade."
The site, too, is symbolic. Located in a grassy area near the school's landmark clock tower, the memorial is also close to University Hall, built in 1770 and the oldest structure on Brown's campus. In the mid-2000s, when the university first began researching its ties to the slave trade, it discovered that at least three slaves were involved in the building's construction.
"We looked at several locations, and this seemed to work on a number of levels," says Jo-Ann Conklin, a member of Brown's Public Art Committee. "It's part of the main campus, but it's also relatively quiet. And it's near University Hall, which we know was built at least in part by slaves."
Conklin also notes that the memorial is near the path that Brown students and faculty take during the school's annual graduation procession. "We liked the idea that the memorial would be part of events like commencement," she says.

BROWN'S REPORT
Planning for the memorial began in 2006, when the university issued a report detailing its long-hidden ties to the New England slave trade.
Among the report's findings: Rhode Island's Colonial-era economy was heavily dependent on slave trading; a handful of wealthy Rhode Islanders, including members of the Brown family, dominated the so-called "Triangle Trade" in rum, slaves and molasses; slave-owning was widespread in Rhode Island and other New England states during the 18th and early 19th centuries; and several of the university's early supporters, including its founder, the Rev. James Manning, and its first treasurer, John Brown, were slave owners. (On the other hand, the Brown for whom the university is named, Nicholas Brown Jr., was a fervent abolitionist.)
Spearheaded by Brown's then-president, Ruth Simmons, the report also made a series of recommendations designed to acknowledge the school's slavery-tainted past.
According to Brown officials, many of these proposals have since been adopted, including the memorial and making the report publicly available. (Copies can be downloaded at brown.edu/Research/Slavery_Justice/report.)
Another of the report's recommendations — that the university establish an academic center for the study of slavery and its impact — will be fulfilled when Brown formally opens its new Center for the Study of Slavery and Justice, on Oct. 25.
Due to a scheduling conflict, Simmons, who led Brown from 2001 to 2012 as the first African-American president of an Ivy League university, will not attend Saturday's dedication, although she is expected to attend the opening of the center in October.
Instead, the Slavery Memorial's dedication ceremony will be led by Brown's current president, Christina H. Paxson.
Puryear, who lives in upstate New York and is considered one of America's most accomplished contemporary sculptors, and Edwidge Danticat, a Haitian-American writer and 1993 graduate of Brown's creative writing program, are also expected to speak.
THE MEMORIAL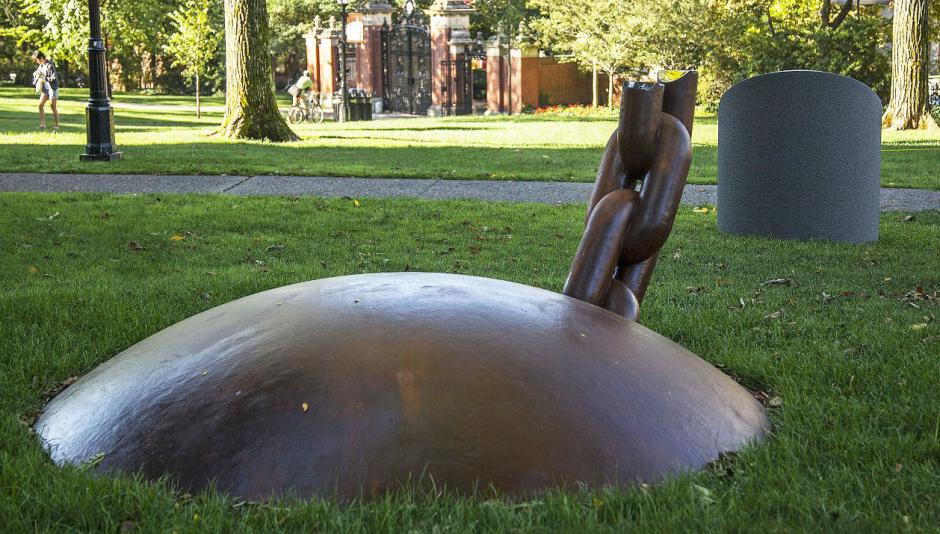 In an email interview, Puryear spoke of the rewards and challenges involved in the memorial project.
"Initially I felt honored when I was asked to create a slavery memorial for Brown, but it quickly became one of the most challenging projects I'd ever undertaken," he said. "After all, how do you use art to memorialize such a shameful episode from our nation's past?"
Puryear said he overcame his initial doubts by treating the memorial as an "industrial artifact" — at once half-forgotten, yet too large to avoid.
"After a lot of deliberation, I had the idea of creating something like a kind of industrial artifact — something obsolete, rusting, largely buried, but neither completely disappeared nor forgotten. For this reason I chose to use ductile cast iron for the sculpture rather than bronze, although the broken links of the chain terminate in facets of mirror-polished stainless steel."
Still, it's a part of the memorial that he had nothing to do with — the inscription on the granite plaque — that Puryear feels is most important.
"The truth, conveyed by the carefully worded historical text inscribed in granite, is for me the most important part of the whole work," he wrote.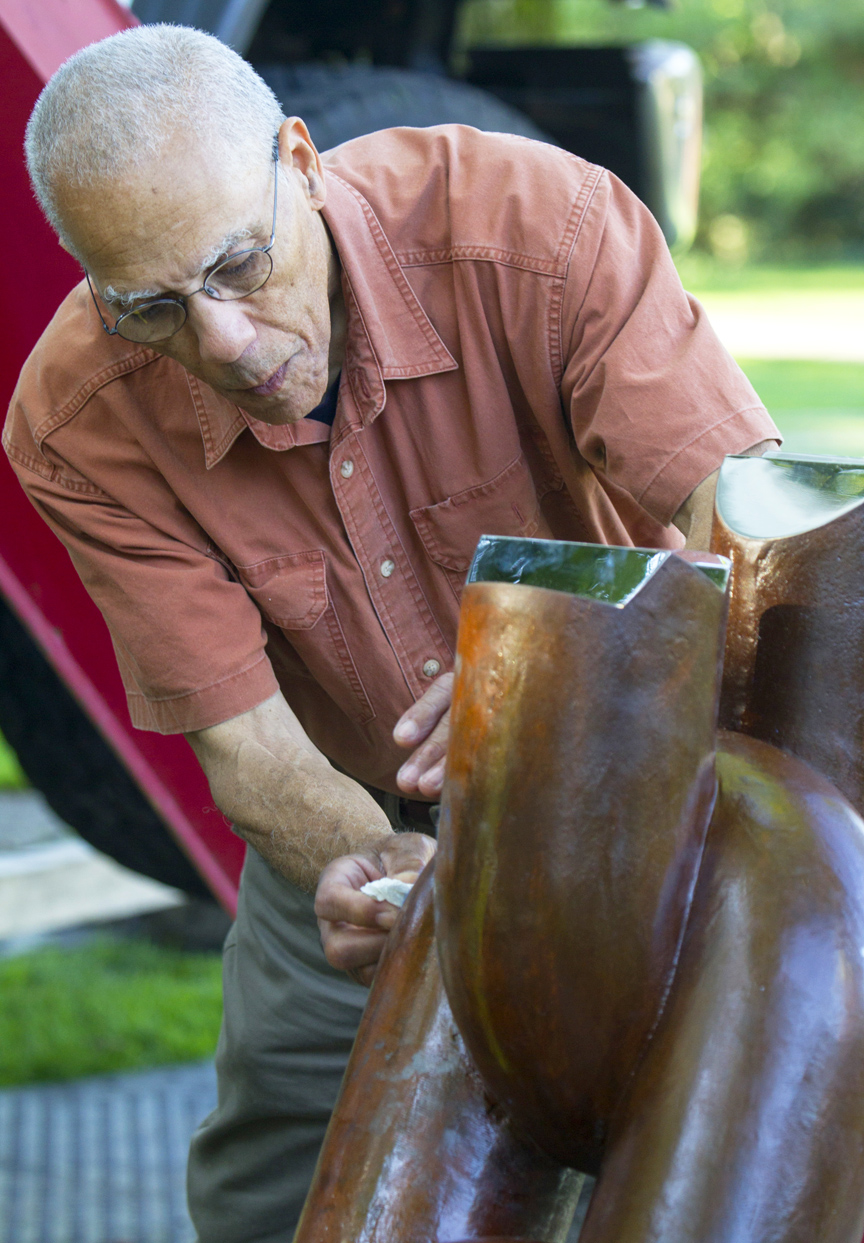 REACTION
Though it only arrived on campus a few weeks ago, the memorial is already getting positive reviews from local arts and cultural leaders.
"I pass it every day on my way to work," says former state Rep. Ray Rickman. "I think it's fantastic. From an educational and artistic standpoint, they get an A-plus."
Providence NAACP President James Vincent hasn't seen the memorial. Nevertheless, he praised Brown for its willingness to explore slavery's legacy at the university and in Rhode Island generally.
"Even now, there are a lot of people who think slavery was something that happened somewhere else," he says. "I commend Brown for reminding us that it happened here, too." (source:
The Providence Journal)