I chose to schedule a two-week filming trip around the closing of CBGB, which, according to the immigration official checking my visa, was big news. CBGB was a toilet of a venue, located on the Bowery in Manhattan's Lower East Side. In the early 70s the neighbourhood was a no-go area: a magnet for bums, dealers, gangs, pimps and other ne'er-do-wells.
It was also the ground zero for Punk Rock. CBGB spawned Television, Blondie, The Patti Smith Group and The Ramones - all great bands who cut their 'punk' teeth long before the Sex Pistols were a twinkle in Malcolm McLaren's eye.
In October 2006, Manhattan's unreal real estate boom finally caught up with the tiny landmark when a huge increase in rent forced original owner Hilly Kristal to close the doors for the very last time.
CBGB's final night proved to be a surreal experience as the full might and glitz of New York's showbiz elite descended en masse on the tiny venue. I had a hunch that many present knew little about CBGB - other than that its closure was a social event not to be missed.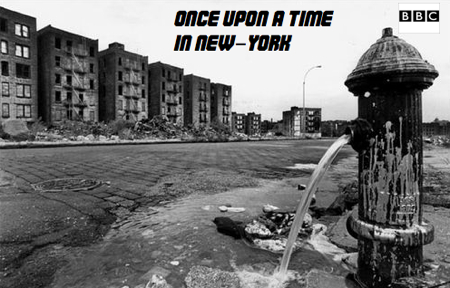 This feeling was borne out when the high priestess of CBGB, Patti Smith, appeared on the sidewalk. As she had chosen, that evening, to eschew designer togs in favour of a dirty woolly hat, the paps and anchor men present decided to ignore her, assuming perhaps that she was an unwelcome vagrant from one of the Bowery's few remaining hostels.
So it was with ease that my team and I - assistant producer Jane Maugham and researcher Sam Bridger - strolled thru' the throng and struck up conversation. On asking Patti what her city was like to live in today, she replied, "Take a look around you. Try and get an apartment here".
Today there is no sign of danger on the Lower East Side. It is now an urban and urbane home for a new, hip American gentry and property prices are as sky high as the condos themselves.
The closing of CBGB stands at the pinnacle of 30 years of physical and spiritual transformation of New York. Whilst modern New Yorkers have inherited a safe, clean and robustly rich city - even 9/11 changed almost nothing economically - the city's individual, creative edge has been lost amidst the onslaught of big money and commercialisation.
Once Upon A Time In New York is an exploration of a different era, one in which the troubled streets of the city gave birth to three brilliant musical cultures that would become known as Punk, Disco and Hip Hop. (source:
BBC by Producer/Director, Ben Whalley
)
BBC Once Upon a Time in New York 1-4