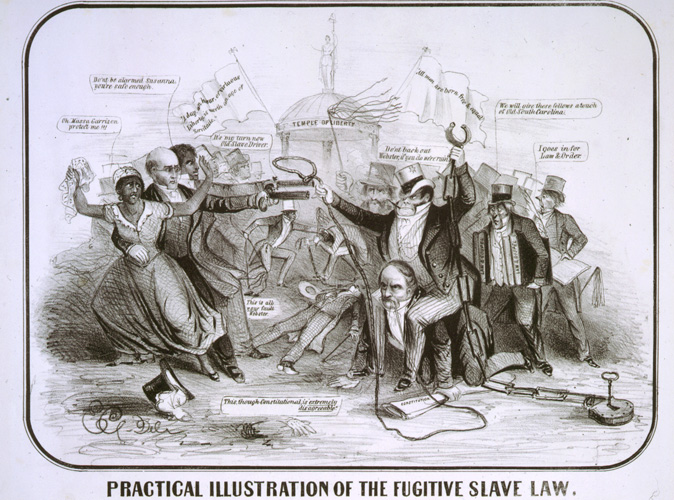 "Our temple of justice is a slave pen."
—Richard Henry Dana, Jr., 1851
The federal Fugitive Slave Law of 1850 required residents in free states to aid legal authorities in apprehending runaway slaves. Those who assisted escaping slaves faced a $1000 fine (an enormous sum at that time), six months in jail and possible charges of treason for defying the law.
The Fugitive Slave Law also established a separate judicial system to process accused fugitive slaves. Ignoring ordinary legal rules and procedures, the system favored slave owners, leaving every free or enslaved African American without basic Constitutional rights. This total denial of freedom and legal protection enraged Northern whites, even those without firm antislavery convictions.
Abolitionists and ordinary citizens organized committees, raised funds, assisted the Underground Railroad and rebelled against the government to rescue and protect accused African Americans. Attorneys tried using the legal system, but only defiance of the law and the legendary Underground Railroad offered effective means of gaining justice.
Boston Resistance
With the passage of the Fugitive Slave Law, Boston became a center of resistance. African American activists, including Lewis Hayden, a member of the Boston Vigilance Committee and a conductor on the Underground Railroad, stormed a Boston courtroom. They rescued the fugitive slave Shadrach Minkins and assisted his escape to Canada. Other important cases ended in tragedy, with federal troops insuring the return of fugitives to slavery. (source:
Massachusetts Historical Society
)
Attorney Robert Morris (1823–1882)
On February 2, 1847, Robert Morris became the second African American admitted to practice law in Massachusetts. Tutored by his mentor, the abolitionist attorney and Beacon Hill aristocrat, Ellis Gray Loring, Morris frequently used his legal skills on behalf of the cause of racial justice. ( the Social Law Library, Boston)
Richard Henry Dana, Jr. (1815–1882)
Richard Henry Dana, Jr., an attorney and author of the novel Two Years Before the Mast, represented many African Americans fighting their return to slavery. He refused any fee for his work and in later years remarked that his defense of fugitive slaves represented the "one great act" of his life.
Courtesy Longfellow National Historic Site, National Park Service
Ellis Gray Loring (1803–1858)
Loring, a prominent attorney from one of Boston's leading families, arranged for the 13-year-old Robert Morris to live and work in Loring's home. He later tutored Morris in the law and presented him for admission to the bar. An active abolitionist, Loring took a leading role in many cases involving slavery and segregation. (Massachusetts Historical Society)