As reported by
Reuters
, "Historic jazz church in New Orleans clings to life," by Gary Hill, on 29 April 2007 -- NEW ORLEANS (Reuters) - A historic Catholic church in New Orleans, a wellspring of jazz and other riches of African-American culture that has fallen on hard times, is facing down a deadline for survival set by its archbishop.
St. Augustine Church was packed and rocking with brass bands and tambourine-shaking choir singers at a jazz Mass on Sunday -- an expression of members' hope and nonmembers' support as the 166-year-old parish scrambles to meet terms set by Archbishop Alfred Hughes for a reprieve from closure.
"I think we're going to make it," Donald St. Charles, a 68-year-old former hospital worker, said after the service, which was also a memorial for TV newsman Ed Bradley.
"Our numbers are up, and our collections are up, so we're doing what we need to do," said Sandra Gordon, a 51-year-old member who said nine generations of her family had been in the church.
The archdiocese, staggered by losses from Hurricanes Katrina and Rita in 2005, had to make hard decisions about which churches it could afford to repair, reopen or keep open. At one point in a sometimes bitter relationship, the archbishop ordered St. Augustine closed and the parish merged into another.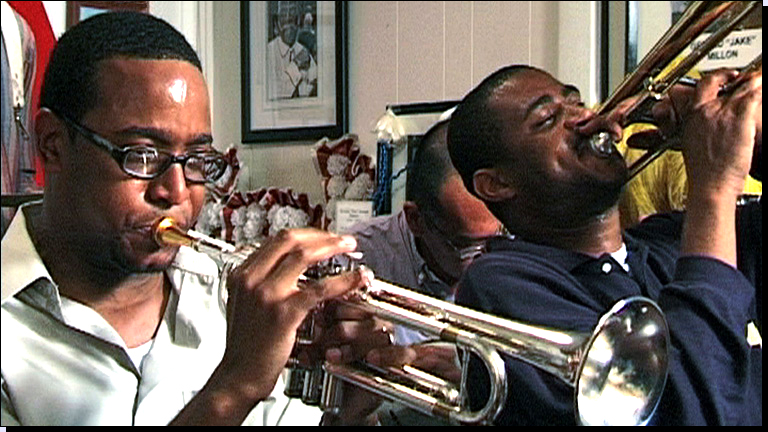 He relented, but laid out 18-month targets for reversing the decline of its membership, finances and religious activities and for making physical repairs -- challenges all that much more difficult in a city still devastated by the flooding from the bursting of levees after Katrina.
Katrina, which struck on August 29, 2005, killed about 1,300 people.
New Orleans' Times-Picayune newspaper reported last week that with six months left until the deadline, the church still had quite a way to go to make its numbers. "Threat of closure still looms," it said.
"We want to be one of the jewels in our diocese's crown. We're working hard. We hope our archbishop will be with us keeping our church alive and open and keeping our parish alive," Gordon said.
'WE WELCOME EVERYONE'
Pastor Quentin Moody would not comment on specifics of the church's recovery but said Sunday's Mass, swelled by music fans in town for the New Orleans Jazz and Heritage Festival and by Bradley's friends and family, could only help,
"It is tremendously important for this entire community, particularly post-Katrina, because it is a sign the community is still alive and the faith of these people has not wavered," Moody, named only last November to conduct the church's turnaround, told Reuters.
Appearing euphoric inside the church after parishioners and visitors streamed out to join the legendary musician Dr. John in a traditional street parade, Moody said he welcomed supporters and visitors from around the world.
"They come from all faiths, and they are all welcome. We welcome everyone, because this is a tourists' Mecca."
Founded in 1841, the church was multiracial from the start. Primarily for so-called free people of color, it also had pews reserved for whites and, unprecedentedly, slaves.
The church is in the Treme, one of the oldest black neighborhoods in the country.
In jazz history, St. Augustine is where pioneer clarinetist Sidney Bechet was baptized in 1897 and where the funeral parades of many great musicians of predominantly Roman Catholic New Orleans set out from. (source:
Reuters
)
Jazz Mass at St. Augustine Catholic Church in New Orleans