John Quincy Adams Ward's bronze statue of Henry B. Hyde, unveiled in the ground-floor arcade of the Equitable Building, at 120 Broadway on May 2, 1901, which was the second anniversary of Hyde's death, and it remained there until a fire and building collapse devastated the building on January 9, 1912. In 1972, it was given by the Equitable Life Assurance Society of the United States to the Metropolitan Museum of Art in New York City, where it is not on display, although a 21-inch version of the "artwork" can be found in Gallery 774." (source: Steven War Ran Backstage)
As reported in
Bloomberg's Businessweek Magazine
, "Living Well Wasn't the Best Revenge," a Book Review of Patricia Beard's
After The Ball: Gilded Age Secrets, Boardroom Betrayals, and the Party That Ignited the Great Wall Street Scandal of 1905
, reviewed by Robert J. Rosenberg, on 10 August 2003 -- Accounting irregularities, self-dealing, financial chicanery: Today's headlines repeat themes that have long bedeviled American finance, as can be seen in After the Ball: Gilded Age Secrets, Boardroom Betrayals, and the Party That Ignited the Great Wall Street Scandal of 1905. Author Patricia Beard, a former editor at Mirabella and Town & Country, focuses on an infamous contretemps of the early 1900s involving the Equitable Life Assurance Society, today a part of AXA Financial. Her gossipy volume is rich with Gilded Age period detail and colorful personalities. However, those seeking a sophisticated explanation of financial misdeeds may come away unsatisfied.
The story begins in 1859 with the establishment of the Equitable by the 25-year-old Henry Hyde, who used his social contacts to raise the $100,000 capital stock required of insurers by New York State law. Investors received interest and spots on the company board, while Hyde himself held on to 51% of the stock. Some 40 years after its founding, "with seventy-seven foreign offices, the Equitable was the first truly international insurance company." It boasted 300,000 policyholders and a reserve of more than $300 million -- even after paying out $307 million to beneficiaries.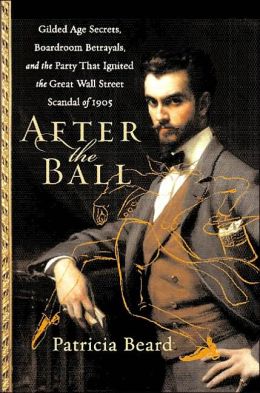 Upon Hyde's death in 1899, his shares in the Equitable passed into a trust established for his son, James Hazen Hyde, then 23 years old. James had shown little interest in business; his passions were horses, society, and French culture. The father specified that James would take control of the stock when the son reached 30. Until then, the company would be run by James W. Alexander, a company executive who was to mentor Hyde and eventually turn over the Equitable to him. After a trip to Paris, the young Hyde returned to the U.S., where he assumed a vice-presidency at the insurance company and life as a bon vivant and sportsman.
In that era of economic transformation and growth, insurance companies played the role of venture capitalists. Their pots of money loomed large to the era's corporate titans, who were in search of funds to bankroll acquisitions and expand existing operations. Not surprisingly, such well-known tycoons as J.P. Morgan and James J. Hill rushed to join the boards of the Equitable and other insurers. In short order, the insurers were buying the bonds of companies that these moguls controlled.
Hyde, seeing the easy opportunities, formed a syndicate, James Hazen Hyde & Associates -- a vehicle through which he bought bonds as an individual, then resold them to the Equitable at a higher price. (Such self-dealing was not then illegal, the author notes.) Hyde also established an alliance with railroad tycoon E.H. Harriman, bringing him onto the Equitable board and arranging to lend him $2.7 million that Harriman wanted for his attempted takeover of the Northern Pacific Railroad.
Tensions mounted between Alexander and Hyde. The staid executive felt his young charge's ostentatious style of living, including attending glamorous balls and staging expensive coach races, could besmirch the company's reputation. Meanwhile, Hyde was coming ever closer to age 30 and the inheritance that would lead to Alexander's displacement as head of the company.

By the early 1900s, friction on the board was high -- and James's opponents were looking for an excuse to bring him down. James obliged them. In 1905, he hosted a soir?e at Manhattan's Sherry's Hotel -- a Louis XVI costume ball attended by 600 members of the cream of society. Two orchestras played as the guests feasted on lobster and vintage champagne. Such occasions, Beard asserts, could make or break a party-giver's reputation in society. This one proved James's undoing in business, as rumors spread that the Equitable had paid for the costly affair.
The rumors, which seem to have been unfounded, became part of Alexander's attack on Hyde. He called for the mutual-stock insurer to be turned into a pure mutual insurer -- a company owned by and operated solely for the benefit of its policyholders. Such a change would mean the end of Hyde's clout. The boardroom brawl became increasingly public: Giving it front-page coverage, The New York American, for example, observed that the fight pitted Morgan interests vs. Harriman and was really a "struggle for control of the money lending power of the Equitable." As state and city regulators began investigations of the company, the two men battled to a draw. Ultimately, control passed into the hands of a little-known outsider, financier Thomas Fortune Ryan, who bought out Hyde's interest. Alexander was ousted from the company. In 1906, Hyde went into exile in Paris, where he married and divorced a succession of American heiresses, returning to New York only in 1941. He died in 1959.
Beard begins her tale by asking us to "acknowledge the power of glamour." Certainly, we recognize its embodiment in James Hazen Hyde -- a Gatsby-like cipher who seemed to grow more beautiful as he aged. But Beard does not fully bring her protagonist to life. What's more, although she attempts to depict the various financial shenanigans at the Equitable, it's clear she is much more interested in describing society high life. After the Ball might have been better had it stuck to the ball alone. Rosenberg follows the markets. (source:
Bloomberg's Businessweek Magazine)