Anse Cafard Slave Memorial


Slavery encompasses much of the Caribbean's history. Although it was made illegal to import slaves to the Caribbean in 1815, it did not stop traders. Instead, they would sail in at night, a risky endeavor as one ship proved. On the stormy night of April 1850, an anchor collapsed, crashing a slave ship into Martinique's Diamond Rock Mountain killing many passengers including 40 chained slaves.
The Anse Cafard Slave memorial was built in 1998 to commemorate the 150th anniversary of slave emancipation in the French West Indies. Twenty white stone, eight foot tall statues stand facing Diamond Beach and the Caribbean Sea. Their somber expressions and slouched shoulders tell the sad tale of slavery. Heads bowed, the statues pay respect to the slaves lost that dark April night.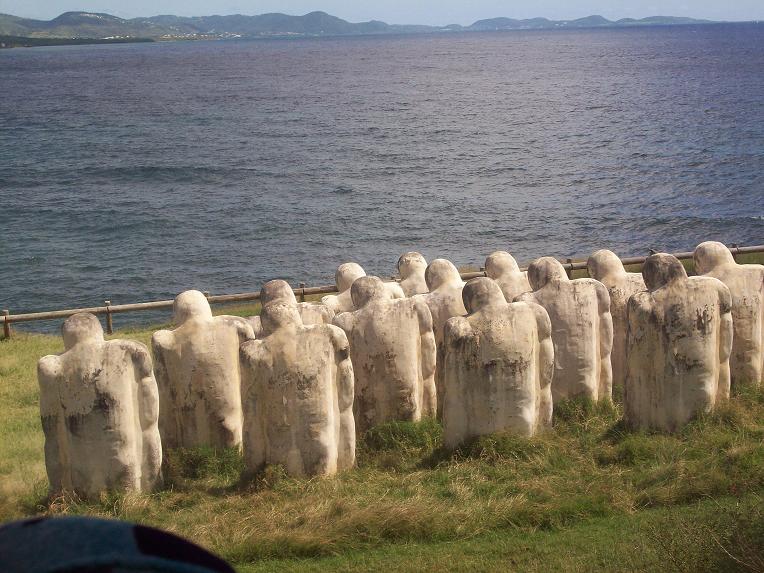 Visitors can go right up the solemn statues and outline their features or lean against their strong human-like arms. The Caribbean is usually associated with relaxation and fine sand beaches but it is important to remember the past-good or bad. The white stone contrast on the green grass hill and blue waters make the reflective eyes of these statues even more remarkable. Stand like one of the statues, staring out onto the vast Caribbean Sea and see it from their perspective. (source:
CNN
)