From the
New York Times
, "Re-creating Hambone, Body Music of the Past," by Glenn Collins, on 18 July 1987 -- It is undeniably the speediest of the many star turns in ''The Comedy of Errors,'' playing these days at the Vivian Beaumont Theater. Yet, to Derique McGee, his hambone body-rhythm routine is never quite fast enough. ''I keep trying for that playing-card-in-the-bicycle-spoke sound,'' he said.
The body music called hambone is made by using the hands to slap the thighs and the chest muscles. ''I guess lots of people have never seen it,'' said the 23-year-old Mr. McGee of the art of hambone. ''Sometimes I'm asked if I invented it.''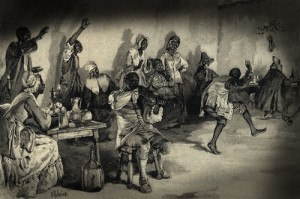 In fact, hambone ''is a living bit of black history, a neglected part of our heritage that flourished in minstrel shows and vaudeville,'' he said.
By default, Mr. McGee has found himself carrying on something of a one-man hambone crusade in the attempt to refurbish its status. Its inclusion in the Lincoln Center Theater production of Shakespeare's comedy makes the play a showcase of the contemporary variety arts, including clowning, ensemble juggling, acrobatics, tap-dancing and stilt-walking. Origins in African Dance
According to Dr. Joseph Boskin, professor of history and Afro-American studies at Boston University, Mr. McGee's efforts to revive hambone ''are representative of a growing movement in America to keep alive elements of black culture that have survived through the generations.''
Like rap music, which has been traced to African roots,the rhythmic patting motion of hambone has its origin in West African dance, ''where movement was a form of communication and religious ceremony,'' said Professor Boskin. It ''was refined in the plantations,'' he added. 'A Lost Art' to Be Preserved
Mr. McGee learned hambone on the streets of Berkeley, Calif., the city where he grew up. At age 15, Mr. McGee began to master other variety arts. Now, in ''Comedy of Errors,'' he performs acrobatics, unicycling, juggling, hat tricks, cartwheels and handsprings.
Nevertheless, as he honed such skills, Mr. McGee's fascination with hambone grew. ''I kept making up more and more stuff that no one taught me,'' he said. In Mr. McGee's own solo clown show, he has incorporated other elements, including finger-popping and mouth-popping as well as movements from hand jive, another traditional rhythmic art.
Although the etymology of the word hambone is debated, ''It makes sense that the word comes from hitting your thigh, your hambone,'' said Mr. McGee.
Mr. McGee has taught hambone to children and adults across the country and even at a circus-arts program in Copenhagen. ''I feel this is a lost art that needs to be passed on,'' he said. (source:
The New York Times
)