REFLECTING HISTORY
Four Monumental Sculptures created for Brookgreen Gardens
Unveiled Murrells Inlet, SC on April 22, 2006
Babette Bloch was commissioned to create four nine-foot-high sculptures for the quarter-mile Lowcountry Trail at Brookgreen Gardens in South Carolina. Brookgreen Gardens was founded in 1931 by sculptor, Anna Hyatt Huntington and her husband Archer Huntington. It was America's first public sculpture garden, and is located on a 9,000 acre former rice plantation. Bloch's sculptures help to expand the education program that Brookgreen now has in place to teach about the history of the Lowcountry. They visually tell the story of the plantation owner, Joshua John Ward, his overseer, and the enslaved Africans who once lived and died working on this vast expanse of land in the mid-1800's.
"Before beginning drawings for this project, I immersed myself for six months researching the South Carolina rice culture, and consulting with experts in the field," Ms. Bloch explains. "I envisioned the sculptures, set along Brookgreen's Lowcountry Trail, as building a bridge — a bridge of hope, of healing, and a place for contemplation and understanding."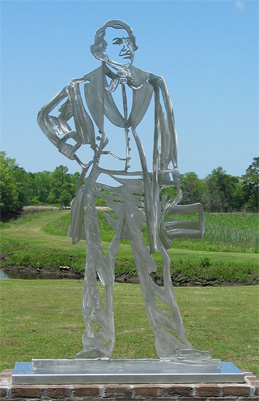 Plantation Owner
Brookgreen's Vice President for Collections and Curator of Sculpture, Robin Salmon, shepherded the project. "When I first saw photos of Babette's nine-foot-high sculptures, Pioneers, installed at an historic site in Michigan, I thought that her unique style and medium could produce ethereal figures that appeared to be coming from the rice field. The see-through quality of her figures keeps the landscape in focus, while reflecting it in the steel itself. Her figures are ghostly reminders of the antebellum past."
"When the sun is behind the figures, they will read as silhouettes," said Ms. Bloch. "And when the sun dances over the surfaces, the figures are a shimmering silver imbued with the hues of the surrounding landscape."
Enslaved African American male
Ron Daise, Brookgreen Gardens' Vice President for Creative Education, added, "The sculptures, archaeological exhibits and interpretive signage displayed on the Lowcountry Trail will inform about Gullah history and culture and rice plantation heritage in ways unparalleled elsewhere. Visitors will find the trail contemplative and historical." Mr. Daise is well known to the general public as the star and cultural consultant of Nickelodeon's TV's Gullah Gullah Island preschool series. As a fourth-generation Gullah descendent who grew up on St. Helena Island, he is an acknowledged expert on the culture that enslaved Africans brought to America.
The artist, in accepting the commission, thought long and hard about how best to present the subject matter. "These figures are portals to a time gone by, but they also are mirrors to our souls," said Ms. Bloch. "I fully expect that viewing them will elicit a range of emotions, from pride of place to mourning, echoes of the lives lived at this historic site." [
http://www.babettebloch.com/news.html
]
The Overseer