At The Liberty Hill Colored School, they only wanted a school bus.
"Colored" School -- Because the school board refused to fund buses for black students, the county's 61 "colored" schools were scattered throughout the region. Most, like Liberty Hill Colored School, were small wooden structures that accommodated one or two classrooms. In the 1949-50 school year, for every dollar spent on a white child only 24 cents was allotted for a black student. Not surprisingly, black adults in the county averaged just over four years of education.
Summerton Graded: This is an insurance photograph of Summerton graded school for white children that was used in the Briggs v. Elliott case. White schools received most of the money for education until Governor Byrnes enacted a law that allotted more money to African American schools.
After Brown
Despite success in the Supreme Court, the struggle for educational equity in Clarendon County continued.
The state legislature implemented a plan of "massive resistance." In October 1955, just a few months after the Supreme Court ruled that schools should be integrated with "all deliberate speed," whites threatened to kill Rev. DeLaine if he did not leave town.
A week later, his church was burned; on the 10th day after the threat, DeLaine heard gunfire outside his home. He fired two shots at cars in the street, hoping to mark the vehicles as the sheriff had told him to do-then fled the state he had called home.
Summerton's schools have faced an uphill battle as well. It took twelve years before the first blacks were allowed to attend the all-white Summerton High School in 1966. But many white students already had left for the all-white private school called Clarendon Hall, which had opened the year before.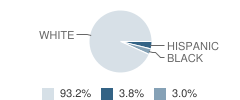 "In Summerton, when the whites left, they said they would never come back, and they haven't," says Leola Parks, executive assistant to Clarendon No. 1 Superintendent Clayton Willie and one of the first blacks to attend Summerton High.
Despite the ruling in Brow v. Board, the schools in America are just as segregated today as they were in the 1950's. A Snapshot of Clarendon County -- Like many counties in the South that had an entrenched history of racism and segregation, when integration finally reached Clarendon County's schools, they suffered nearly total white abandonment. In 2001, the average black students in the county attended schools that were 95 percent black.
Segregated Clarendon County SC